Grow With Me

The "Grow With Me" is a way to have your child photographed
FOUR  times in the first year.
The first year of your child's life is when they change the most!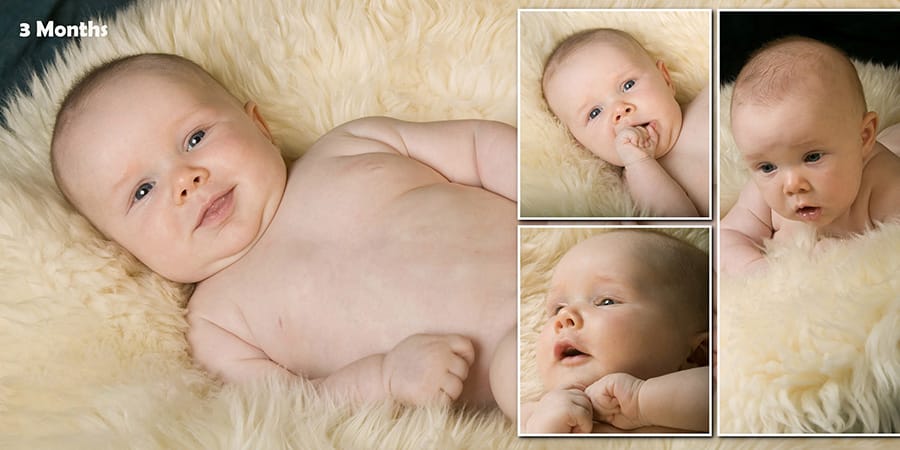 *Milestone: Baby on tummy, head is lifted – a smile is great too!
Best time to come:When child can hold their head up. 
This is a great stage for hats and blankets.
Simple clothing or none at all.
* Keep in mind that your child might be at a different development timeline.  It may be longer than 3 months for them to hold their head up.
Just schedule your session when they are ready!
6 months
Milestone: sitting up!
Best time to come: when child is sitting up – even its for a brief minute! 
We often have mom or dad spotting on the sidelines.
Simple clothing recommended – shoe optional!
9 months
Milestone: standing up!
Best time come: When child is standing up, either on their own or
holding onto something.
This milestone comes all too quickly. 
Again schedule when your child reached the milestone, whenever that is!
Oh the Joy!!!
In this stage the milestones can really vary. 
Ideally your child is walking or standing really well.
We love to have parents bring cakes or balloons and all that jazz. (Just let us know so we can plan!)
We suggest a great birthday outfit – whether a pretty dress or cute jeans, it is usually a great outfit.
This might be a good time for shoes as well.
Anything goes!
Your bonuses include:
Advanced notice of Christmas Mini Sessions
Discounts on Portraits, Wall Art, and Albums
At the end of the Baby's First Year, you have a
Portrait Panel with 4 portraits matted and framed.

Grow with Me Plan Includes:
You get 4 custom sessions for your child at their major milestones
(Value $380)
You get a custom Portrait Composite matted and framed
(Value $50)
(For a total Value of  $930)
All for only $495   ( a savings of $435!!!)
That's almost HALF OFF!
Weekdays
by appointment only
10AM-5PM
Address
44803 Beech Ave.
Lancaster, CA 93534