I was in a street motorcycle accident.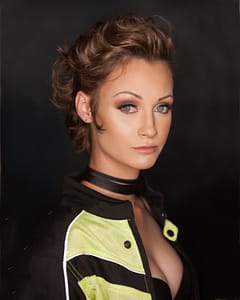 When I tell people I get mixed reactions. Someone once said that I brought my accident upon myself merely because I made the choice to ride a motorcycle. Some ask if someone else was on the bike, assuming I was on the back of some guy's motorcycle.
It was my bike and I loved it. I grew up on dirt bikes, I started riding when I was five years old. This was my first street bike, I only had it 11 months. I will not ride again, by choice. I got the motorcycle mostly for commuting to college.
My accident was on surface streets, less than half a mile from my house, I was on my way home. I was going straight through a light when a girl made a left turn in front of me. I hit the side of her car at 40 miles per hour. 40 miles per hour is about 60 feet per second.
I am often told I am lucky. I hate it. I don't feel lucky as I ache from my injuries.
True, my body appears whole. In fact, my body is more than whole. I have two screws in my left ankle. I had to repair a root tear of my medial meniscus, that's essentially the cushion in my knee between the femur and tibia. Walking is painful. I also broke my dominant thumb when I gripped the handlebar and it pushed my thumb out of place with the force of the impact. In addition to breaking my dominant hand, I sprained my non-dominant hand.
A foot cast and hand cast in June and July is like wearing snow gloves and boots in the dead of summer. I also decided to buzz all my hair off because bathing became something I could no longer do by myself and hair became a luxury I couldn't afford.
Everything has changed.
There are things I used to do without thought that I had to relearn or now have to learn a new way of doing them.
I had to learn to walk again, I didn't walk for three months. I had to learn how to write again.
Some things I used to do with my dominant hand I now have to do with my other hand because my dominant hand lacks the strength or my thumb can no longer be positioned correctly. It was surprising how quickly my muscles in my arm and leg deteriorated and how long it has taken to regain strength.
I did this photo shoot as a way of celebrating my body. I also wanted to have a photo record of my body as it is now. It's surprising how quickly my body changed and it's difficult to accept that certain aspects will never be the same as they were. I'm 25 and this accident ruined my knees, right now that's my biggest frustration. I'm still discovering limitations that I didn't have before, it is beyond frustrating when I find I can no longer do something I did without thought. I would be lucky if the accident never happened. The accident was entirely the other person's fault but she walked away. I was going straight through a green light when the other person made a left turn directly in front of me. It was around 4:30 in the afternoon on June 1st, not late enough in the day for the excuse of the sun being in the person's eyes. It was a clear, beautiful day. Please, look for motorcycles, anticipate when there might be a motorcycle.
Julie's adds: " We met when I put out a call for models. You would never know that she has ever been in an accident, because she looks "whole" as she puts it. She really wanted to celebrate her journey, to show her scars as badges of honor that she survived. I was so inspired by her strength, her resiliency, and her self-acceptance."